Sadick Assah, better known by his stage name Sleeky, is an award-winning promoter who recently lost his biological mother.
Sadly, Sleeky's mother passed away when she was being admitted to a Takoradi hospital.
He just revealed on Facebook in a devastating statement that his mother was very ill and fighting for her life in bed.
He even said that her health will have a significant impact on his decision to hold his upcoming West Side Festival in Takoradi. He begged all of his followers to pray for her.
The frigid hands of death have arrived to seize the one thing that brings him such joy in life despite his plea for prayer and all his attempts.
Sleeky posted a picture of himself and his mother at the hospital and accompanied it with this terrible news on his social media pages
:'Black Christmas for me! Did all I can to bring you to life but still it didn't work, Rest In Peace mummy❤️ you will forever live in my heart MaameChana 😭 😭'
Numerous professionals in the field and his loved ones have expressed their condolences in response to the post and prayed that the Lord would help him get through this trying moment.
Popular media figure Abeiku Santana, bands Reggie Zippy and GoldKay, and more have expressed their condolences in the comments section.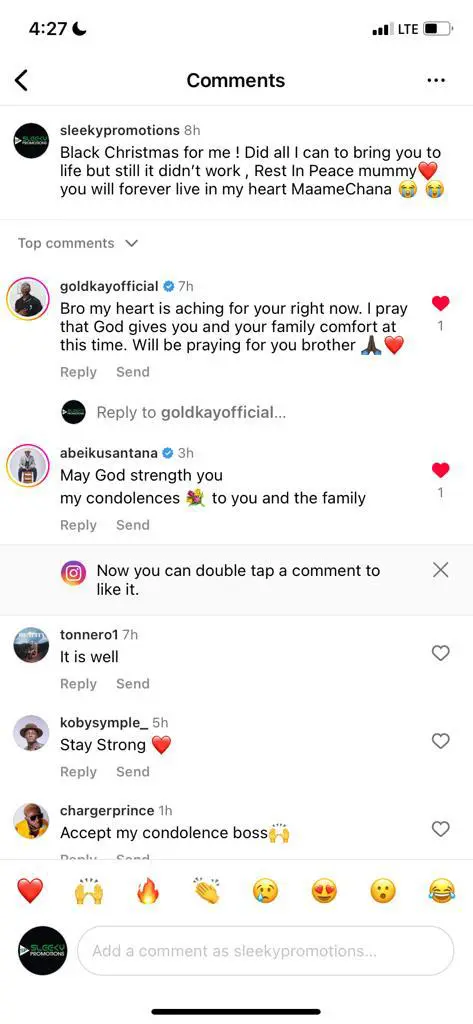 Sleeky was scheduled to hold The West Side Festival on Sunday, December 25, 2022 in Takoradi before his mother's untimely demise.
The event will be held at MTN Street in Takoradi, and Sleeky has already lined up a long list of famous musicians to delight the many fans that will go there.
Pappy Kojo, Ayesem, Bobo Dada Bee, Patapaa, TH 4 Kwages, and many others are among the musicians.
As of today, it is impossible to predict whether or not the program will continue.