The American adult film actor King Nasir, who has offered to assist Shugatiti become an orgasm for the first time in her life, has begun raising money to watch their "Sex match" live.
King Nasir asked for donations from internet users and other people who want to see this happen in a recent viral post.
According to him, he wants the entire meeting to be shown live, and he is inviting all those interested in witnessing himself and Shugatiti resolve their dispute to give and support.
"For the fans that wanna see this match up happen! You can support here.
This will help us secure funding for broadcasting/live PPV, set design, staff, etc."He posted.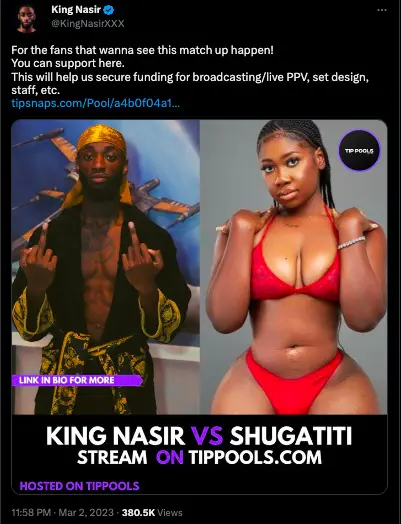 After the adult film actor challenged the Ghanaian socialite to a s3x match, King Nasir and Shugatiti have been trending on the internet for the past three days.
Although the couple hasn't formally decided to make the most awaited sex encounter of all time a reality, based on their social media exchanges, the 'dream' may come true.